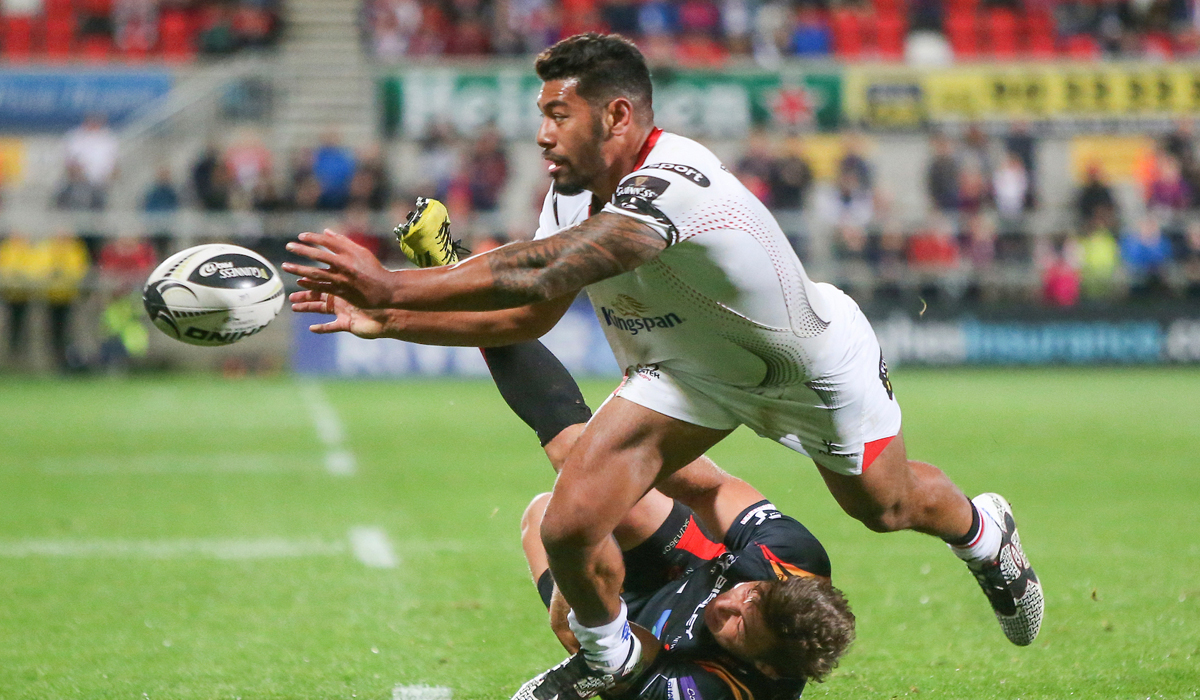 Place of Birth:
Auckland , N Zealand
Honours:
New Zealand (17 caps)
The All Black's arrival at Ulster in 2016 was the most-anticipated for years; such was the reputation of the top try-scorer for the New Zealand U20s in their 2011 World Championship-winning campaign. In 2012, at just 21, his exploits with Auckland Blues saw this versatile back promoted to the full international squad, and he made his debut in 2013 against France, copper fastening his place in the side before agreeing to sign in at Kingspan Stadium. Before coming to Belfast the exciting Piutau starred for English Premiership side Wasps in the 2015/2016 season, and his stunning, powerful performances saw him nominated for the RPA Player of the Year. He topped that with an impressive first season at Ulster earning the Bank of Ireland Ulster Player of the Year and Guinness PRO12 Player of Year Awards for 2016/17.

Current Season Stats
Career Stats
Ulster Playing History
| Date | Competition | Result | Started | T | C | P | DG | YC | RC | Pts | Mins |
| --- | --- | --- | --- | --- | --- | --- | --- | --- | --- | --- | --- |
| 01/09/2017 | GUINNESS PRO14 | Ulster Rugby 42-19 Toyota Cheetahs | Yes | 1 | 0 | 0 | 0 | No | No | 5 | |
| 22/09/2017 | GUINNESS PRO14 | Ulster Rugby 52-25 Dragons | Yes | 0 | 0 | 0 | 0 | No | No | | |
| 30/09/2017 | GUINNESS PRO14 | Zebre Rugby Club 27-23 Ulster Rugby | Yes | 0 | 0 | 0 | 0 | No | No | | |
| 06/10/2017 | GUINNESS PRO14 | Ulster Rugby 16-8 Connacht Rugby | Yes | 0 | 0 | 0 | 0 | No | No | | |
| 13/10/2017 | European Rugby Champions Cup | Ulster Rugby 19-9 Wasps | Yes | 0 | 0 | 0 | 0 | No | No | | |
| 22/10/2017 | European Rugby Champions Cup | La Rochelle 41-17 Ulster Rugby | Yes | 0 | 0 | 0 | 0 | No | No | | |
| 28/10/2017 | GUINNESS PRO14 | Ulster Rugby 10-25 Leinster Rugby | Yes | 0 | 0 | 0 | 0 | No | No | | |
| 04/11/2017 | GUINNESS PRO14 | Southern Kings 36-43 Ulster Rugby | Yes | 0 | 0 | 0 | 0 | No | No | | |
| 24/11/2017 | GUINNESS PRO14 | Ulster Rugby 23-22 Benetton Rugby | Yes | 0 | 0 | 0 | 0 | No | No | | |
| 01/12/2017 | GUINNESS PRO14 | Dragons 32-32 Ulster Rugby | Yes | 0 | 0 | 0 | 0 | No | No | | |
| 10/12/2017 | European Rugby Champions Cup | Harlequins 5-17 Ulster Rugby | Yes | 0 | 0 | 0 | 0 | No | No | | |
| 15/12/2017 | European Rugby Champions Cup | Ulster Rugby 52-24 Harlequins | Yes | 1 | 0 | 0 | 0 | No | No | 5 | |
| 01/01/2018 | GUINNESS PRO14 | Ulster Rugby 24-17 Munster Rugby | Yes | 0 | 0 | 0 | 0 | No | No | | |
| 06/01/2018 | GUINNESS PRO14 | Leinster Rugby 38-7 Ulster Rugby | Yes | 0 | 0 | 0 | 0 | No | No | | |
| 13/01/2018 | European Rugby Champions Cup | Ulster Rugby 20-13 La Rochelle | Yes | 0 | 0 | 0 | 0 | No | No | | |
| 21/01/2018 | European Rugby Champions Cup | Wasps 26-7 Ulster Rugby | Yes | 0 | 0 | 0 | 0 | No | No | | |
| 09/02/2018 | GUINNESS PRO14 | Ulster Rugby 59-10 Southern Kings | Yes | 0 | 0 | 0 | 0 | No | No | | |
| 24/03/2018 | GUINNESS PRO14 | Cardiff Blues 35-17 Ulster Rugby | Yes | 0 | 0 | 0 | 0 | No | No | | |
| 06/04/2018 | GUINNESS PRO14 | Edinburgh Rugby 20-32 Ulster Rugby | Yes | 1 | 0 | 0 | 0 | No | No | 5 | |
| 13/04/2018 | GUINNESS PRO14 | Ulster Rugby 8-0 Ospreys | Yes | 0 | 0 | 0 | 0 | No | No | | |
| 21/04/2018 | GUINNESS PRO14 | Ulster Rugby 36-15 Glasgow Warriors | Yes | 0 | 0 | 0 | 0 | No | No | | |
| Date | Competition | Result | Started | T | C | P | DG | YC | RC | Pts | Mins |
| --- | --- | --- | --- | --- | --- | --- | --- | --- | --- | --- | --- |
| 02/09/2016 | GUINNESS PRO12 | Ulster Rugby 29-8 Newport Gwent Dragons | Yes | 0 | 0 | 0 | 0 | No | No | | |
| 16/09/2016 | GUINNESS PRO12 | Ulster Rugby 19-8 Scarlets | Yes | 0 | 0 | 0 | 0 | No | No | | |
| 23/09/2016 | GUINNESS PRO12 | Glasgow Warriors 17-22 Ulster Rugby | Yes | 0 | 0 | 0 | 0 | No | No | | |
| 01/10/2016 | GUINNESS PRO12 | Ulster Rugby 9-7 Ospreys | Yes | 0 | 0 | 0 | 0 | No | No | | |
| 22/10/2016 | European Rugby Champions Cup | Ulster Rugby 19-18 Exeter Chiefs | Yes | 0 | 0 | 0 | 0 | No | No | 0 | |
| 28/10/2016 | GUINNESS PRO12 | Ulster Rugby 14-15 Munster Rugby | Yes | 1 | 0 | 0 | 0 | No | No | 5 | |
| 04/11/2016 | GUINNESS PRO12 | Edinburgh Rugby 28-17 Ulster Rugby | Yes | 0 | 0 | 0 | 0 | No | No | | |
| 03/12/2016 | GUINNESS PRO12 | Cardiff Blues 22-35 Ulster Rugby | Yes | 1 | 0 | 0 | 0 | No | No | 5 | |
| 10/12/2016 | European Rugby Champions Cup | Ulster Rugby 39-32 ASM Clermont Auvergne | Yes | 1 | 0 | 0 | 0 | No | No | 5 | |
| 18/12/2016 | European Rugby Champions Cup | ASM Clermont Auvergne 38-19 Ulster Rugby | Yes | 0 | 0 | 0 | 0 | No | No | | |
| 23/12/2016 | GUINNESS PRO12 | Ulster Rugby 23-7 Connacht Rugby | Yes | 0 | 0 | 0 | 0 | No | No | | |
| 31/12/2016 | GUINNESS PRO12 | Leinster Rugby 22-7 Ulster Rugby | Yes | 1 | 0 | 0 | 0 | No | No | 5 | |
| 15/01/2017 | European Rugby Champions Cup | Exeter Chiefs 31-19 Ulster Rugby | Yes | 2 | 0 | 0 | 0 | No | No | 10 | |
| 21/01/2017 | European Rugby Champions Cup | Ulster Rugby 22-26 Bordeaux-Begles | Yes | 0 | 0 | 0 | 0 | No | No | | |
| 10/02/2017 | GUINNESS PRO12 | Ulster Rugby 24-18 Edinburgh Rugby | Yes | 0 | 0 | 0 | 0 | No | No | | |
| 26/02/2017 | GUINNESS PRO12 | Zebre Rugby 17-40 Ulster Rugby | Yes | 0 | 0 | 0 | 0 | No | No | | |
| 03/03/2017 | GUINNESS PRO12 | Ulster Rugby 19-7 Benetton Rugby | Yes | 1 | 0 | 0 | 0 | No | No | 5 | |
| 11/03/2017 | GUINNESS PRO12 | Ulster Rugby 68-21 Zebre Rugby | Yes | 2 | 0 | 0 | 0 | No | No | 10 | |
| 24/03/2017 | GUINNESS PRO12 | Newport Gwent Dragons 17-27 Ulster Rugby | Yes | 0 | 0 | 0 | 0 | No | No | | |
| 07/04/2017 | GUINNESS PRO12 | Ulster Rugby 24-24 Cardiff Blues | Yes | 0 | 0 | 0 | 0 | No | No | | |
| 15/04/2017 | GUINNESS PRO12 | Munster Rugby 22-20 Ulster Rugby | Yes | 0 | 0 | 0 | 0 | No | No | | |
| 29/04/2017 | GUINNESS PRO12 | Ospreys 24-10 Ulster Rugby | Yes | 0 | 0 | 0 | 0 | No | No | | |
| 06/05/2017 | GUINNESS PRO12 | Ulster Rugby 17-13 Leinster Rugby | Yes | 0 | 0 | 0 | 0 | No | No | | |