Looking back to the second half of the 2016/17 season, it was very encouraging to see a number of Academy players make their senior debut?
Absolutely. We had six players from the Academy making their senior debut last year. Some of them went on to make substantial contributions, in particular Rob Lyttle and Ross Kane won a significant amount of caps and it was good to see them sustain their place with the senior team. Not only did those guys make their first team debut, but they were all upgraded to senior contracts during the summer, and if we can keep that kind of progress, that would be excellent.
With those six players moving on to senior contracts, what were some of the key things you were looking for in the new Academy entrants for 2017/18?
For our year one entrants we've been putting a lot of focus on getting a good body of forwards into the Academy. In recent years we have produced a long list of top class backline players, like Luke Marshall, Stuart McCloskey, Craig Gilroy and Jacob Stockdale. Now our focus is on balancing that up with real quality forwards, so that is why 80% of our year one entrants this summer are young forwards.
We also place a great deal of emphasis on players being of the right character to join the Academy. Talent is obviously essential, but the player's character will underpin that talent and enable the player to be successful. With the support of the Ulster Rugby Supporters Club, we now have an excellent performance psychology programme, which is used to assess and develop players character.
It has also been a very successful year in terms of the number of Ulster players involved in National Age Grade teams?
We had 27 players who attained national jerseys last year, either at U18, U19 or U20 level. That's our most significant achievement as an Academy in terms of growth of national jerseys.
Outside of that, it's worthy of note that we occupied 36% of the NTS (National Training Squad) programme. The NTS programme is a group of players who are identified by the IRFU for inclusion in the national squads, so it's encouraging to see that the IRFU recognise our players are of the requisite quality to be on the programme.
Looking at the current Academy squad, the talent net was obviously cast far and wide when you see players involved from right across the province, and also a mixture of those joining from both club and schools rugby backgrounds?
There are many entry points into our system. Obviously you can be with us from Under 16 - two thirds of the players who joined the Academy this year have been in the Ulster pathway since Under 16, which is great. It's a good base for the programme, but obviously like any top class, high performance programme, we always need to look for, and take in, the best talent. That has meant that we've taken in other guys from outside the Province who are Irish qualified, be they from the island of Ireland or further afield, and again these are predominantly forwards.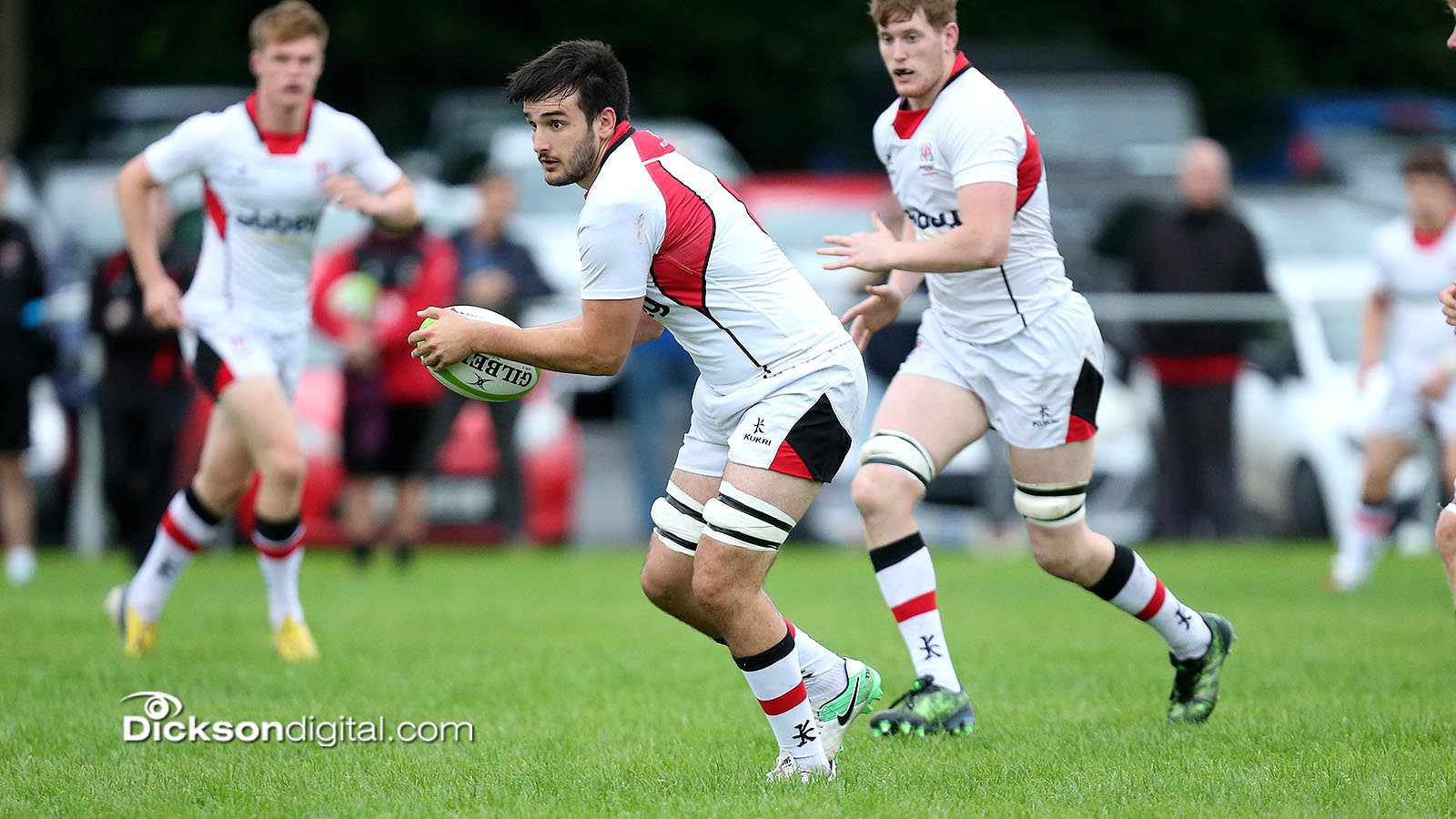 Based on the success of the last year, how does that effect the Academy's key objectives for 2018?
We've made significant strides in the last few years. We've certainly achieved promoting players who are of the requisite quality to play for Ulster. Already this season we've had six Academy players capped for Ulster, many of them forwards and you have someone like Nick Timoney who is enjoying a real purple patch recently and has been able to hold his place in the team.
It is also going to be important for us to have continuity to try and build on our Irish age-grade and NTS success, and we're doing very well in terms of that. At the moment we've a good pool of players in the preliminary squads for the national teams - the Ulster 18s won the Interprovincial Championship for the first time in 12 years and already we have 10 of those players in the initial national squad. That's something we want to sustain and grow.
Another key area is the continuing development of the pathway - we had a good Under 16 programme last year but we need to have an excellent Under 16 and Under 17 programme. Our identification needs to get better and better. We're finding now that for players entering the pathway at Under 16 level then progressing into our Academy, those 5 years of development en route are exceptionally important, especially as the transition into the senior squad is happening a little bit quicker. If you take someone like Jacob (Stockdale) - who's only 21 and already playing for Ireland - if we don't get that identification right from an early stage, and that excellent formal programme at Under 16 and Under 17 level, it's going to be difficult for those guys to transition into the seniors.
So that connects with the transition of our programme from the Academy into the seniors. It was good last year and again, we're trying to make it excellent. All Academy players are now supported by an Integrated Service Team, giving them exposure to six service providers - obviously the central one everything has to be built out from is rugby, but you've also got hugely important support services in Strength and Conditioning, Nutrition, Physio and Medical, Performance Psychology and Personal Development. What we have now is a really high-performing integrated service team. It has taken a year to develop but when you look at the way the players are developing in an accelerated way, you can see the benefits and I think it will get even better. There is also a very good synergy between the Academy staff and the senior coaches, and the transition of players has been greatly improved through the support of Dwayne (Peel) and Aaron (Dundon), who have a key role in ensuring the young players are successful upon entry into the 1st XV. This has been an excellent development to ensure the hard work of the high performing Integrated Service Team is being realised during the academy players' entry point to the seniors, which is always challenging.
There is a lot more around the game, in addition to just performing on the pitch, and that's something we're trying to work hard on to ensure that when those good players come through, they sustain their position in the first team and go on to have a number of successful caps for Ulster and indeed, Ireland.