Leinster led 10-0 at the break following tries from Aimee Clarke and Lindsey Peat out wide on the right. Ulster had been tight and controlled in that first half and tried to limit Leinster's opportunities but they were being tested to the limit by the probing Leinster side.
Early in the second half, centre Michelle Claffey sliced through to stretch the lead further with a fine try, converted by Aine Donnelly, and the advantage was becoming ever clearer. Nonetheless, Ulster managed to hit back with a five-pointer from former Ireland winger Eliza Downey.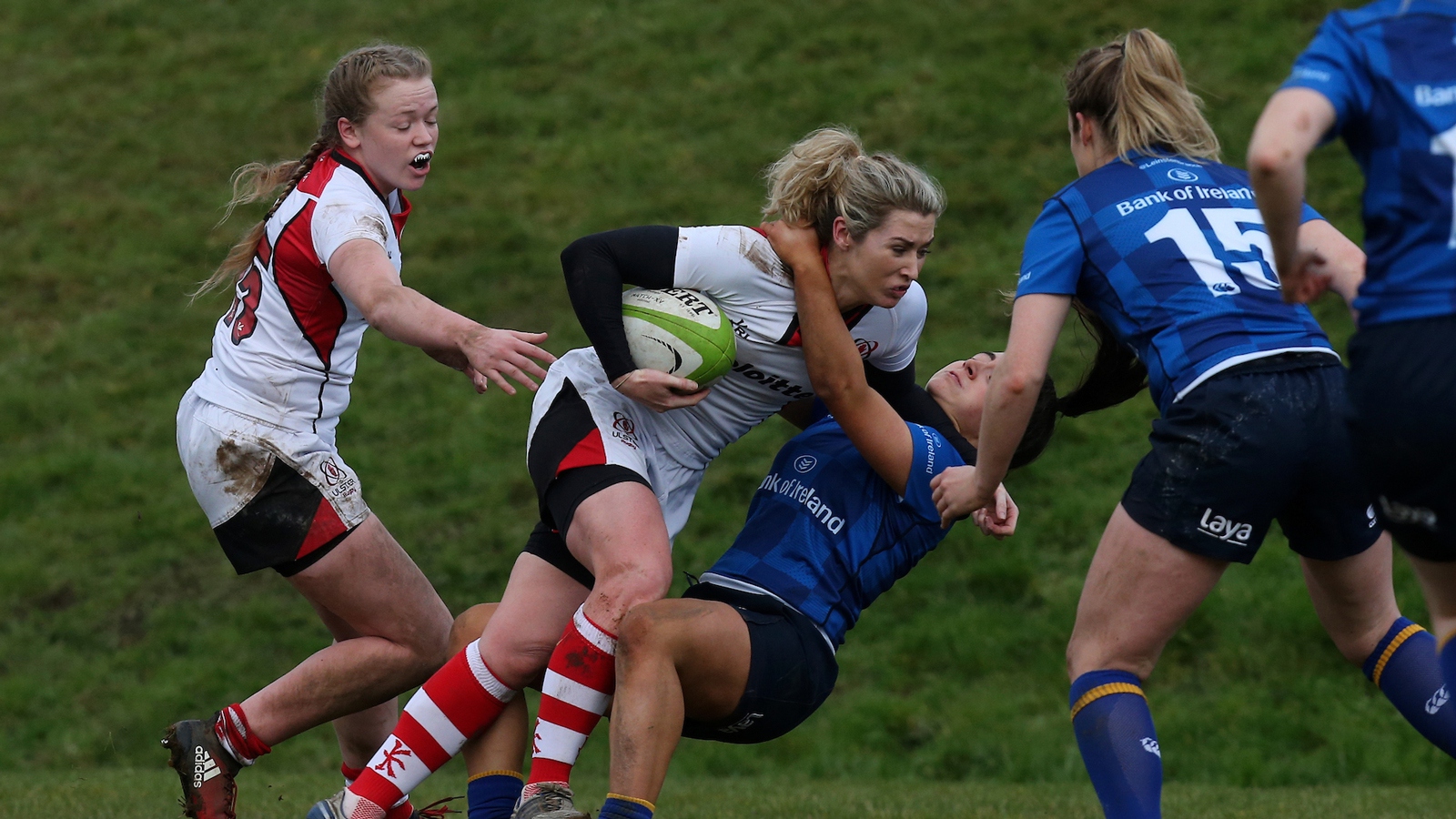 There was a glimmer of hope for the hosts as the gap was slightly more manageable at 17-5. Their hard-working pack drew huge inspiration as Cooke hooker Beth Cregan led impressively from the front. Brittany Hogan, who was fresh off the plane from playing for the Ireland Sevens Development team in Dubai, captain Larissa Muldoon and Kathryn Dane were excellent and the handling was impressive as replacements made big impacts.
However, any thoughts of an Ulster revival were quickly extinguished when Railway Union full-back Susan Vaughan crossed the whitewash for her side's fourth try of the day and a 22-5 lead. Excellent teenage winger Clarke scored her second and third tries of the day before the end, one of which was converted by Donnelly.
To their credit, Ulster never dropped the heads and kept doing the right things right to the end. They were rewarded with a late try from impressive replacement Teah Maguire.
Suffern's squad can look forward to next Saturday's trip to Munster with optimism, while Leinster will move on to next weekend's clash with Connacht at Donnybrook in confident mood.
In the other game of the weekend, Connacht Women defeated Munster Women 19-15 at the Sportsground.
Ulster Scorers
:
Tries: Eliza Downey, Teah Maguire
Leinster Scorers
:
Tries: Aimee Clarke 3, Lindsay Peat, Michelle Claffey, Susan Vaughan; Cons: Aine Donnelly 2
Ulster Women:
Vicky Irwin (Cooke); Emma Jordan (Cooke), Brittany Hogan (Cooke), Nikki Caughey (Railway Union), Eliza Downey (Cooke); Larissa Muldoon (Railway Union) (capt), Kathryn Dane (Old Belvedere); Ilse van Staden (Cooke), Beth Cregan (Cooke), Sorcha Mac Laimhin (Cooke), Hannah Beattie (Cooke), Rebecca Smyth (Cooke), Gemma McCutcheon (Cooke), Lesley Megarity (Cooke), Lauren Magennis (Cooke).
Replacements: Aishling O'Connell (Co. Cavan), Neve Jones (Malone), Helen McGhee (Cooke), Amanda Maginn (Ballynahinch), Storm Cobain (Ballynahinch), Amy Graham (Cooke), Peita McAlister (Malone), Teah Maguire (Cooke).
Leinster Women:
Susan Vaughan (Railway Union); Megan Williams (Old Belvedere), Aine Donnelly (Old Belvedere), Michelle Claffey (Blackrock), Aimee Clarke (Railway Union); Sene Naoupu (Old Belvedere), Ailsa Hughes (Railway Union); Lindsay Peat (Railway Union), Cliodhna Moloney (Railway Union), Fiona O'Brien (Old Belvedere), Aoife McDermott (Railway Union), Orla Fitzsimons (St. Mary's), Sophie Spence (Old Belvedere), Ciara Cooney (Railway Union), Paula Fitzpatrick (St. Mary's) (capt).
Replacements: Christy Haney (St. Mary's), Jennie Finlay (Old Belvedere), Caoimhe Molloy (Gorey), Meg Kendal (Railway Union), Rachel Horan (CYM), Megan Parkinson (Wicklow), Meaghan Kenny (Railway Union), Maria Kenny (Old Belvedere).
Women's Interprovincial Series Table
| | | | | | | | | | | |
| --- | --- | --- | --- | --- | --- | --- | --- | --- | --- | --- |
| Team | Pl | W | D | L | F | A | Diff | TB | LB | Pts |
| Leinster Women | 1 | 1 | 0 | 0 | 34 | 10 | 24 | 1 | 0 | 5 |
| Connacht Women | 1 | 1 | 0 | 0 | 19 | 15 | 4 | 0 | 0 | 4 |
| Munster Women | 1 | 0 | 0 | 1 | 15 | 19 | -4 | 0 | 1 | 1 |
| Ulster Women | 1 | 0 | 0 | 1 | 10 | 34 | -24 | 0 | 0 | 0 |
Ulster Women's Fixtures
Sunday 3rd December: Ulster Women 10-34 Leinster Women, 2.00pm at Dromore RFC
Saturday 9th December: Munster Women v Ulster Women, 2.00pm at Garryowen RFC
Saturday 16th December: Ulster Women v Connacht Women, 3.00pm at Belfast Harlequins RFC