A native of County Donegal, Dunleavy first stepped on to the rugby pitch at his local club at six years old, as he recalls:
"It started for me at Letterkenny minis. I was still a year young so wasn't able to play games but I always went along with my brother. From there I played right the way through to U18 level with the club. We had a decent team and reached a couple of Ulster Carpets finals at Kingspan Stadium but were unlucky to come up against a very good Armagh side."
At the beginning of the season, the prospect of playing All Ireland League rugby saw Joe join up with City of Derry, although he would have to wait a while before making his senior bow:
"I had to wait until I turned 18 before I could play, so I spent the first six months just training with the boys."
With City of Derry having failed to find a win in their opening eight Ulster Bank League games, the arrival of Dunleavy on the field coincided with a turn in fortunes for the club. Nine days after his 18th birthday, Joe played his part in a thrilling 16-15 win over fellow Ulster side Dungannon, before going on to record a further four wins on the bounce.
"It was great to get that run of results. It was just down to pure gutsy efforts from the entire team. A lot of the wins were only by a point or two and some of them we probably didn't deserve to win but we managed to scrape over the line."
City of Derry retained their status in Division 2B thanks to a final day losing bonus point away to Skerries, with Dunleavy getting the crucial try late on.
"We got two intercept tries late in the game and luckily enough I got the last one. I didn't even realise the significance of it until somebody told me after the game, but I was delighted it worked out like that. We put a lot of work in throughout the season, so it was great to stay up."
Dunleavy's contribution for City of Derry didn't go unnoticed and he was awarded the prestigious Ulster Bank League Provincial Player of the Year at the glitzy end of season ceremony, which was attended by Ireland coach Joe Schmidt, among others.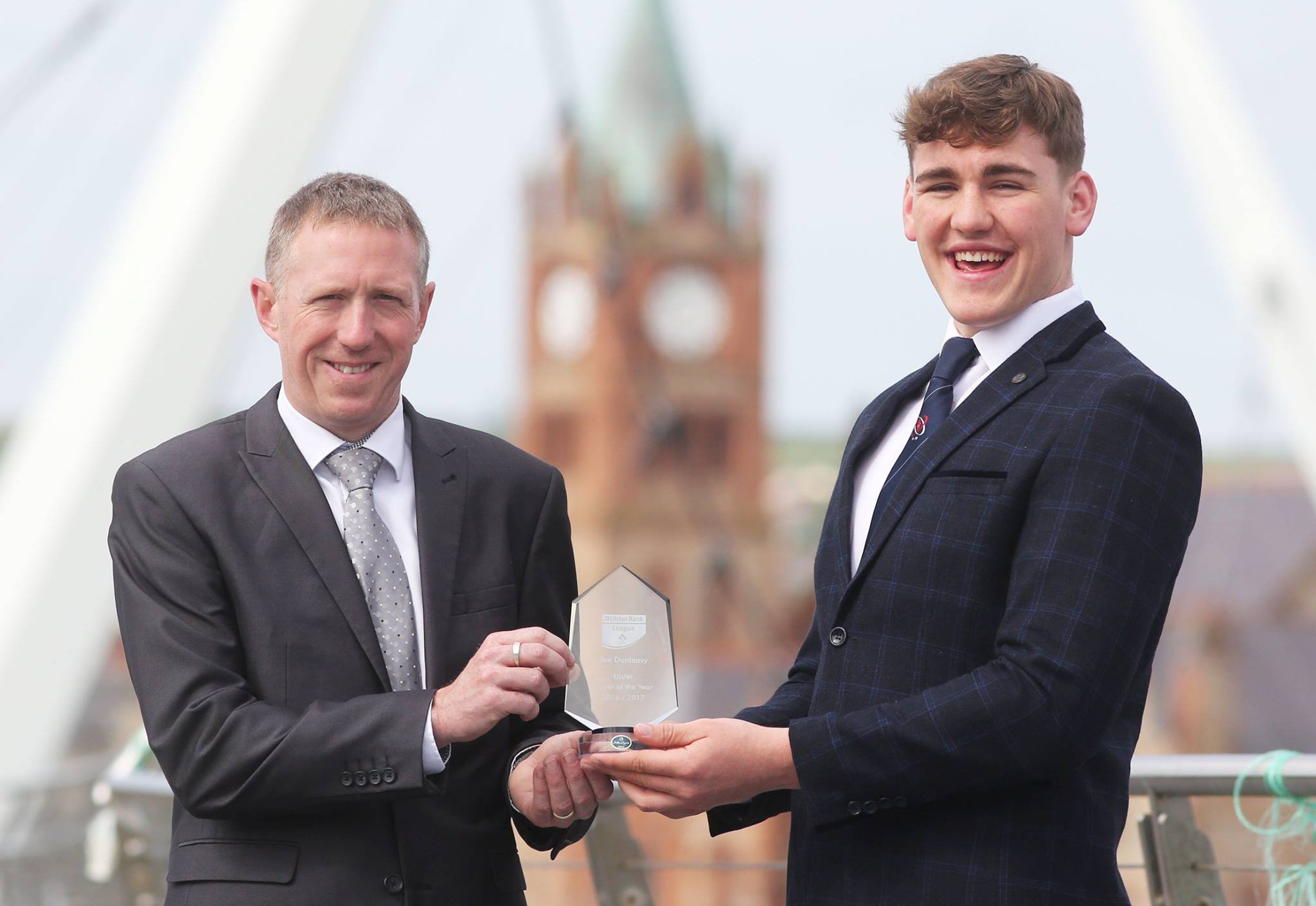 "I was very surprised. I certainly wasn't expecting to get that but I'll take it and it'll give me a bit of a boost in confidence going into next year. Unfortunately, I wasn't able to attend the ceremony due to school commitments but my brother went along and collected it for me."
Currently undertaking his leaving certificate exams at Colaiste Ailigh in Letterkenny, Dunleavy will join the Ulster Academy setup later in the summer, and will also link up with Belfast club Malone RFC for the new season.
"I've played in Ulster age grade teams at U16, U17, two years at U18 then U19 level so the next target for me was to get into the Academy and I was over the moon to get the call up."
As he prepares to join the best of the Province's young talent in the Ulster Academy, Dunleavy feels his experience from youth and All Ireland League rugby will stand him in good stead:
"In youth rugby, when you're normally playing in the bad weather and against heavier opposition, you become more used to the physical aspect of it. I think the youth rugby players are generally bigger than schools' players, so you're better used to the physical type of rugby, whereas the schools' players are perhaps more developed in terms of skills.
"When I started playing All Ireland League games, I certainly noticed a step up in speed and physicality. The skill level was quite similar to youth rugby but when you're playing against experienced senior players of 28 or 30 years old you need to get used to the knocks. But I think that experience will stand by me as I join the Academy."
Back in March, Dunleavy got a taste of rugby at the top level when he was invited to play for Ulster A versus Leinster A, and he certainly didn't look out of place in an Ulster team that contained seasoned campaigners such as Louis Ludik, Stuart McCloskey, Ricky Lutton and Pete Browne.
"It was class. I didn't look at the Leinster team in the lead up to the game so I wasn't sure who I would be up against. When I saw their team sheet I soon realised it was a pretty big game when you're going to be coming up against the likes of Sean Cronin and those lads. But it was amazing, I loved it.
"The speed of the game was a lot quicker but my tackle count was pretty good - I made 19 tackles so I was happy with that. I just got over the nerves and got stuck in like it was any other game."
Looking ahead, Dunleavy is keen to push on and make the most of every opportunity.
"I'll be playing with Malone next year who are in Division 2A of the All Ireland League so that'll be another step up in standard. Chris Henry is going to be helping out so I'm really looking forward to working with him and learning from him.
"Hopefully if the chance comes I might get a few Ulster A games under my belt. At the minute, I'd be one of the younger guys in the setup so I just want to learn as much as I can and get as much experience as I can. Obviously the Ireland U20s would be a target too, so I'll just keep trying to improve and push myself on.
"It's an exciting time for me. I'm really grateful to the coaches and all the others who have helped me at both Letterkenny and City of Derry. They've played a massive part in getting me this far and I'm looking forward to the next challenge."