Ulster Carpets U14 Youth Cup Final
Rainey OB 14-17 Portadown
Portadown have won the 2017 Ulster Carpets U14 Youth Cup thanks to a thrilling 14-17 win over Rainey OB.
Portadown got off to a flying start on 4 minutes when number 8 Callum Walker steamrolled through four attempted tackles to crash over under the posts, with Rhys Heasty adding the conversion to put his side 0-7 in front.
In the second quarter of the game Rainey stretched their opponents with some swift passes out wide, bringing play with ten metres of the opposition line, but the Portadown defence managed to hold firm and prevent any further score before the interval.
Rainey drew level just two minutes after the restart when lock Fionn O'Donnell pounced to intercept a pass before beating the covering defence to slide over, then Adam Brown confidently dispatched the conversion.
On 43 minutes Portadown centre James Campbell scored a superb individual try, cutting in from the right wing to touch down.
With just a couple of minutes left on the clock, Rainey pressurized the Portadown defence high up the pitch, forcing a turnover for out-half Tom Crozier to stretch over and touch down. Another well struck conversion from Brown edged Rainey 14-12 in front as it looked like the Magherafelt side had done enough for the win.
However, with the very last play of the game Campbell burst through on the right wing, searing away from the cover for his second try to snatch the win for Portadown.
Congratulations must be offered to both sides for what was a fantastic game of youth rugby, played with huge endeavor and plenty of skill.
Rainey OB Team:
(15-9): Ruairi McGuigan, Jack Gregg, Callum McGlone, Conor Dyson, James Mawhinney, Tom Crozier, Ryan O'Kane;
(1-8): Ethan McClenaghan, Alaster Moore, Mark McCullagh, Wiktor Maksymillian, Fionn O'Donnell, Adam Brown, Mark Lee, Ben McCullagh (Capt).
Replacements: David McCleery, Ryan Harkness, Tiernan Loughran, Rohan Lennox, Ben Mackey.
Portadown Team:
(15-9): Ross Newport, Cody Black, Rhys Heasty (Capt), James Campbell, Jay Lismore, Tony Gribben, Ben Gordon;
(1-8): Jay Blevins, Harry Meredith, Scott McKinney, Ritchie Herron, Will Turbitt, John Glasgow, Sam Glasgow, Callum Walker.
Replacements: Daniel Hunter, Josh Young, Jake Taylor, Kyle McCann, Jack Gilpin, Jamie Hayes, Marc Rainey.
---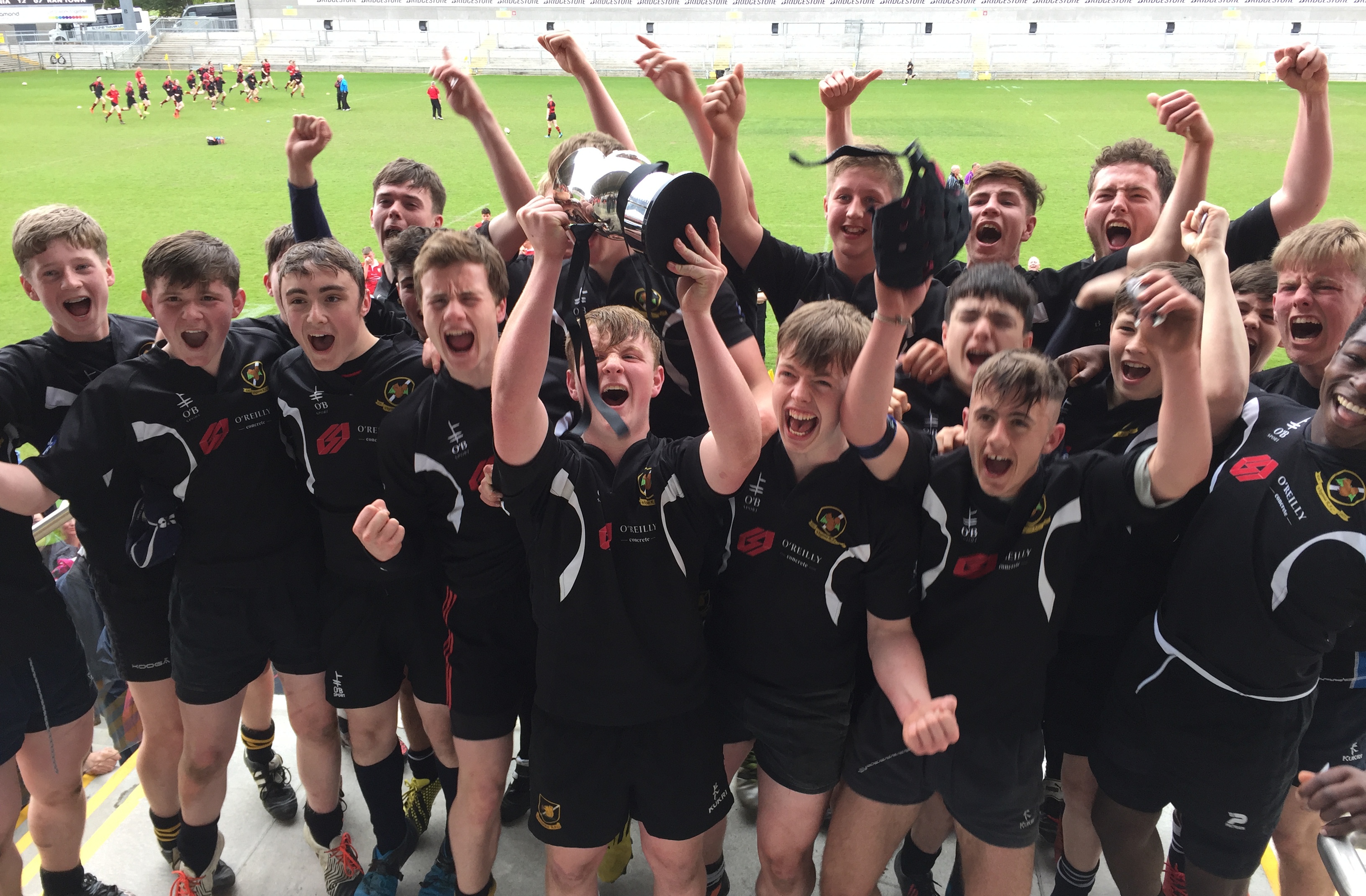 Ulster Carpets U16 Youth Cup Final
Virginia 12-7 Randalstown
Virginia have collected the 2017 Ulster Carpets U16 Youth Cup, courtesy of a hard-fought 12-7 win over Randalstown.
Randalstown got off to a blistering start with a try after just three minutes when centre Conn McGhee made a great break before a delightful offload to his midfield partner Stefhan Gabbidon-Lyttle who raced over before also adding the conversion.
There was very little between the sides for the remainder of the half with both teams cancelling each other out through very disciplined defensive work.
Virginia made all the play in the opening stages of the second half and Martin Gilsenan got his side's opening try after 33 minutes, showing neat footwork on the left wing to jink in past the Randalstown defence. Martin O'Connell's conversion attempt was struck well but just pushed to the right of the posts.
Four minutes later the Cavan men took the lead for the first time when out-half Adam Charters exploited a gap in the Randalstown rearguard with a chip over the top that he chased and collected to touch down under the stick; O'Connell's conversion making it 12-7.
Charters' effort proved to be the crucial score of the game as, despite the best efforts of Randalstown, Virginia held on for the win.
Virginia Team:
(15-9): Aaron Mannion, Martin O'Connell, Mark Gilsenan, Aaron Kierans, Jamie Davidson, Adam Charters, Jason Henderson;
(1-8): Jamie Osbourne, Evan Charters, Aaron Hawthorne, Luke Brodie, Robert Lechaden, Cai Walker, Rioghan Smith, Adrian Lynch.
Replacements: Ibykan Ajetummobi, Connor Kennison, Callum Finane, Killian Collins, Niall Carolan, Paddy Gordon, David Gibney.
Randalstown Team:
(15-9): Jack Johnston, Matthew Luke, Stefhan Gabbidon-Lyttle, Conn McGhee, Cormac Devlin, Peter Cullen, Oran Gilbert (Capt);
(1-8): Ross Swann, Eoin McDonald, Miguel Corriea, Brandon McAllister, Joel McCavana, Ciran O'Neill, Ricardo Corriea de Conceiao, Dominic O'Connor.
Replacements: Adam Monzour.
---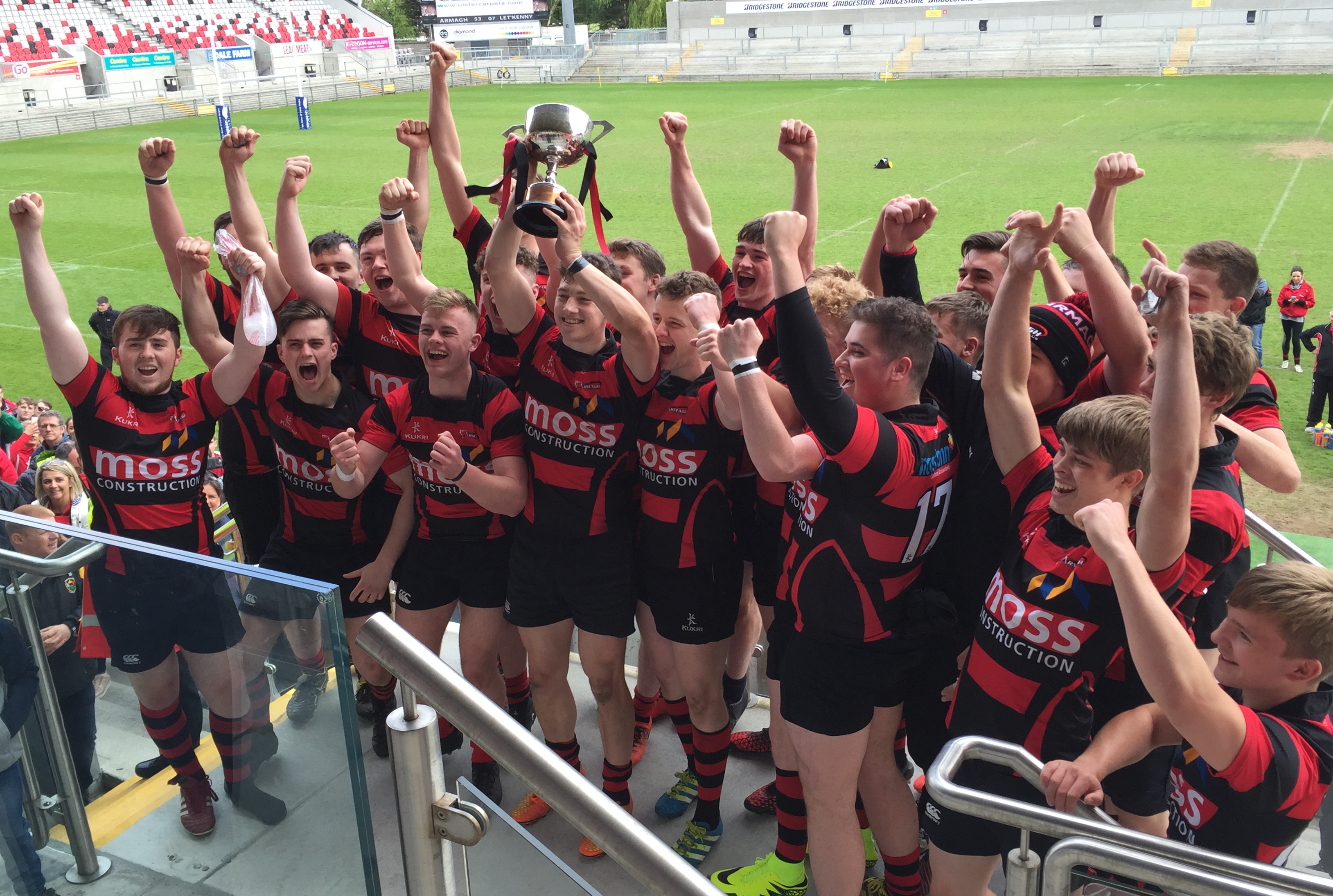 Ulster Carpets U18 Youth Cup Final
Armagh 53-7 Letterkenny
Armagh U18's have added the Ulster Carpets U18 Youth Cup to the Palace Grounds trophy cabinet, having already collected the U18 league and Nutty Krust tournament titles this season.
The Armagh lads put in a clinical display at Kingspan Stadium, running in eight tries to comfortably see off a spirited Letterkenny challenge.
Armagh got the opening score of the game after 6 minutes when a well-worked lineout switched play from touchline to touchline for winger Michael Savage to get over in the left corner. Out-half Cormac Fox struck his conversion attempt well but it just tailed to the left.
Armagh got over for another try six minutes later when full back Shea O'Brien was released following some swift hands across the Armagh backline. Fox's conversion opened up a 12-0 lead.
Fox further extended the Armagh lead on 18 minutes with a superbly struck penalty from the 10 metre line, punishing the Letterkenny defence for an indiscretion at the breakdown.
Savage skipped in for his second try on 21 minutes, finishing off after Fox released the winger with a perfectly timed skipped pass, with the conversion making it 22-0.
On 24 minutes, Armagh number 8 Barry Finn stormed through, fending off two attempted tackles to touch down for his side's fourth try. On this occasion Fox was unable to land the conversion.
Three minutes later, Letterkenny number 8 Peter Scott made good headway into the Armagh 22. Letterkenny forced the penalty then kicked for the corner, before Scott pealed off the lineout maul and charged over to touch down. The big man then picked himself up and knocked over the conversion to narrow the deficit to 22-7, which was how the score remained until half-time.
The first score of the second half came on 44 minutes and it was from Armagh again as O'Brien made the initial break through the midfield before swinging the pass wide to Savage who nipped in to complete his hat-trick.
Four minutes later Savage found himself in open space on the left wing once again and he made no mistake, powering over for his fourth and Armagh's sixth try of the day. Fox's sideline conversion opened a commanding 39-7 lead.
Paul Mullen got in on the act on 55 minutes, as he took the offload and crashed over, following good work by winger Adam McGowan, with Fox adding the extra two points.
On the final play, scrum-half Nathan Rogers rounded off the win as he darted over for Armagh's eighth try in what was an excellent team performance.
Armagh Team:
(15-9): Shea O'Brien, Michael Savage, Evin Crummie, Shane McKeever, Adam Magowan, Cormac Fox, Nathan Rogers;
(1-8): Aaron Kennedy, Jake WiIson, George Hadnett, James Mallen, Ryan Morton, John Mallen, Paul Mullen, Barry Finn.
Replacements: Kyle Gallagher, Shea Donnelly, Tiernan O'Neill, Sam McClelland, William Hazelton, Joel Scott, Dan Reynolds.
Letterkenny Team:
(15-9): Eunan Henry, Conor Cannon, Fionn McGarvey, Lewi Carson, Bailey Laughlin, Matthew Faulkner, Jack McGarvey;
(1-8): David Ward, Christopher Green, Stephen Gibson, Joshua Fulton, Conor McMenamin, James Sweeney, James Roulston, Peter Scott.
Replacements: Ben Scott, John Fogarty, Eoin Stevenson, Jack Smeaton, Ciaran Aitken, Joshua Carr.