Ticketing information
Supporters can save up to 40% by purchasing tickets online at
www.ulsterrugby.com/buytickets
For group booking offers call the Ulster Rugby ticket office on (028) 9049 3222, option 2.
Each ticket purchased will grant access to every game on that date.
Saturday 22nd April
12.30pm McCambley Cup Final - Ballymena 4th XV v Ballymoney 4th XV
Ballymena won their maiden McCambley Cup title in 1972, three years after the commencement of the competition and have collected it on eight further occasions, most recently in 2011. Ballymoney lifted the cup for the first time last year and will be hoping to make it back-to-back successes.
Ballymena 4th XV route to the final:
Semi-Final: Ballymena 4 29-11 Enniskillen 3
Quarter-Final: Ballymena 4 33-3 Cookstown
2nd Round: Civil Service 2 7-59 Ballymena 4
1st Round: Ballynahinch 7 3-27 Ballymena 4
Ballymoney 4th XV route to the final:
Semi-Final: B.H.S FP 2 10-33 Ballymoney 4
Quarter-Final: Ballymoney 4 47-12 Ards 3
2nd Round: Ballymoney 4 36-0 Coleraine 3
1st Round: Ballymoney 4 vs Finn Valley (Conceded by Finn Valley)
2.30pm Gordon West Cup Final - PSNI 1st XV v Cavan 1st XV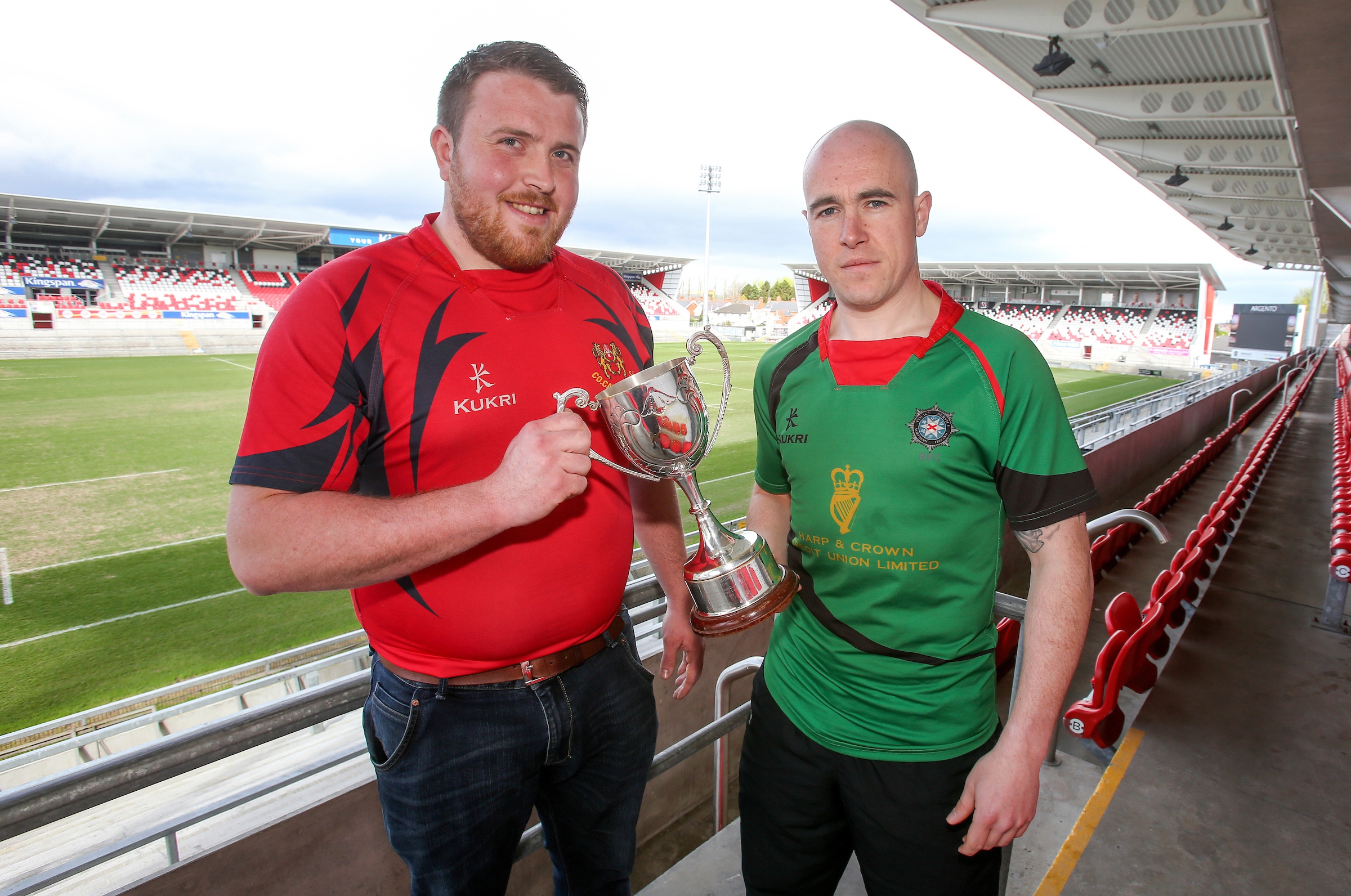 A new name will be engraved on the Gordon West Cup this year as PSNI and Cavan are both vying for their first ever title. The competition has been played since 2000 and has featured eleven different winners, with no club having won it on more than two occasions.
PSNI 1st XV route to the final:
Semi-Final: P.S.N.I 18-10 Newry
Quarter-Final: P.S.N.I 24-20 Letterkenny
Cavan 1st XV route to the final:
Semi-Final: Cavan 31-8 Holywood
Quarter-Final: Lurgan 24-29 Cavan
4.30pm Forster Cup Final - Malone 4th XV v Portadown 3rd XV
Malone lifted their seventh Forster Cup last season, thirteen years after their previous success, while Portadown will travel to Kingspan Stadium with hopes of bringing the cup back to Chambers Park for the first time.
Malone 4th XV route to the final:
Semi-Final: Malone 4 48-0 Limavady 2
Quarter-Final: Malone 4 21-15 Ballyclare 4
2nd Round: Malone 4 50-8 Ballymoney 3
1st Round: Dungannon 3 7-8 Malone 4
Portadown 3rd XV route to the final:
Semi-Final: Armagh 3 31-13 Portadown 3
Quarter-Final: Queens 3 7-8 Portadown 3
2nd Round: Portadown 3 49-0 Ballynahinch 6
1st Round: Portadown 3 56-0 Carrickfergus 3